A delegation from Education International (EI) travelled to Baghdad, Iraq, where they met with the president and prime minister and along with the Iraqi Teachers' Union and member organisations in Arab countries launched the EI flagship campaign Go Public! Fund Education.
The launch, organised with support from the Iraq Teachers' Union (ITU), representing 1.2 million educators in the country, was attended by Iraq's Education Minister Ibrahim Names al-Jubouri, who emphasised that "making a profit off children's right to education is unacceptable. Public education in Iraq is expanding and teachers are the main investment."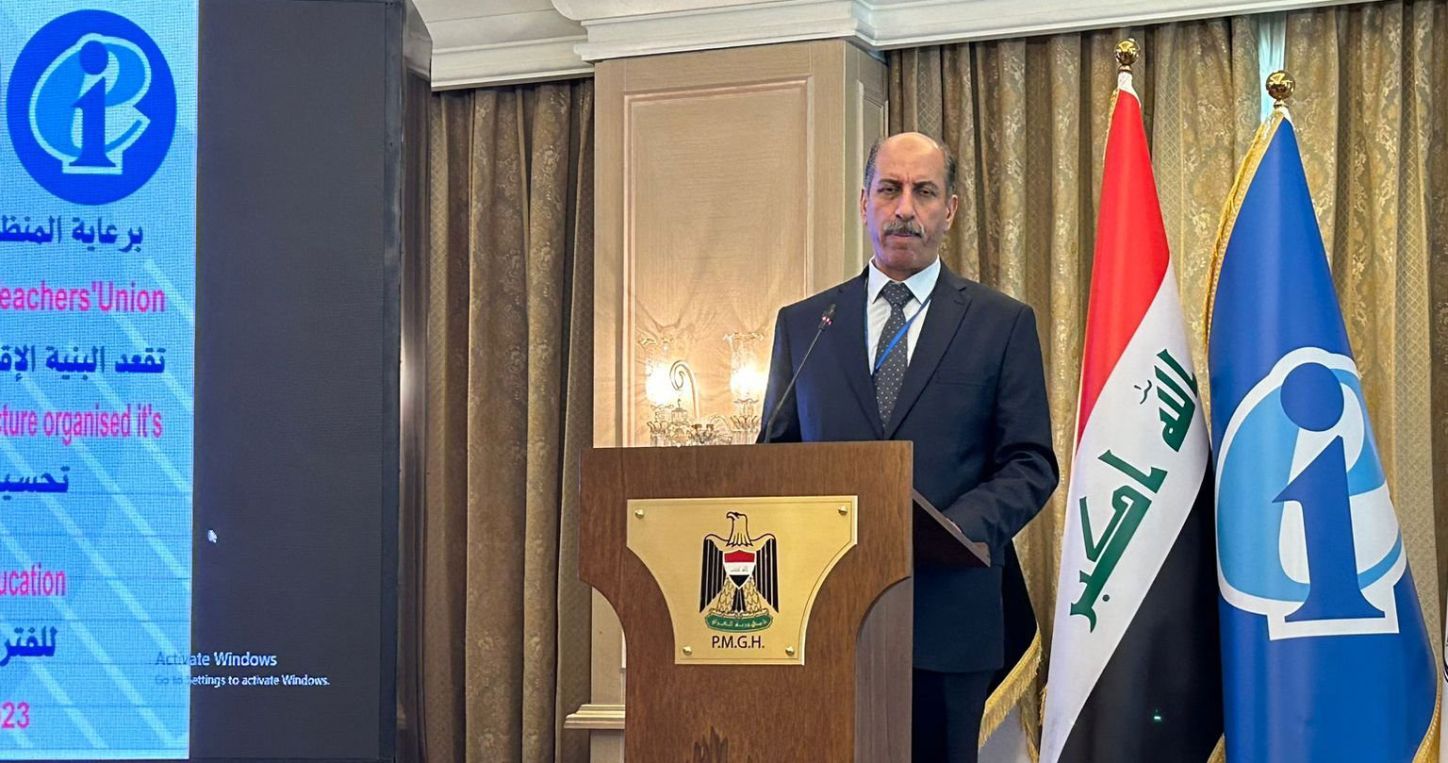 The campaign supports education unions to push back against austerity and privatisation, challenge education budget cuts, and advocate for quality, inclusive public education systems.
The delegation, led by EI General Secretary David Edwards, EI Vice-President Mugwena Maluleke, and the chairperson of the EI Arab Countries Cross-Regional Structure, Manal Hdaife, met with the President of the Republic of Iraq, Dr. Abdul Latif Rashid, and the Prime Minister, Mohamed Shia Al-Sudani.
"Fund education not war"
The EI delegation made the case for investing in public education and in a trained, motivated and respected teaching profession, in Iraq and across the Arab World. It presented research supporting union efforts to develop teachers' professional capacities via an enhanced curriculum.
During the meeting, President Rashid stated that "we need to fund education not war," adding that "overspending on defence equals underspending on education and other vital sectors," he also said that in fragile and conflict affected countries like Iraq, governments tend to spend nearly twice as much on their militaries than as on education and health.
He concluded: "In the Arab region where so many children are denied access to education, allocating scarce funding to anything but public education is totally unacceptable".
"On behalf of Iraq, we want EI to convey our voice to the High-Level Panel on the Teaching Profession in New York and underscore that international aid and parts of international financial institutions' loans should be used to fund the provision of public education," he added.
Prime Minister Al-Sudani also underlined the importance of reforming the education system, and noted that Iraq was one of the first one to establish an advanced education system, "which places a high responsibility upon us".
He also highlighted governmental efforts to implement the Education Strategy (2022-2031) in cooperation with UNESCO, UNICEF and the World Bank. This strategy aims to develop education structures in Iraq.
He further emphasised updates made to the educational curriculum, as well as the cooperation between unions and governmental institutions involved in the education sector, and the ongoing search for better ways to develop this sector.
At this high-level meeting, EI General Secretary David Edwards highlighted that the global economic architecture, with institutions like International Monetary Fund and the World Bank, massively influence the financing that governments can dedicate to education and teachers.
"These institutions should change their policies to loosen restraints on education expenditure and reduce debt burdens. Therefore, we need to decolonise the education financing if we are serious about our commitment to Sustainable Development Goal 4 which calls for equitable, inclusive quality education for all," he added.
Go Public! Fund Education
The delegation also met with education unions belonging to the EI Arab Countries Cross-Regional Structure (ACCRS), representing teachers and education support personnel in 11 countries in the region, to launch the Go Public! Fund Education campaign in the region.
"EI stands firmly behind the Iraq Teachers' Union and all ACCRS education unions in their efforts to advance public education financing in the Arab region. Education trade unions globally and in the Arab region, need to be consulted and included to successfully achieve those goals. The neglect of education and the impact of crises that have caused so much suffering and injustice, have made saving public education and supporting the professionals at its heart, critical and urgent!" stated David Edwards during the event held on September 1st.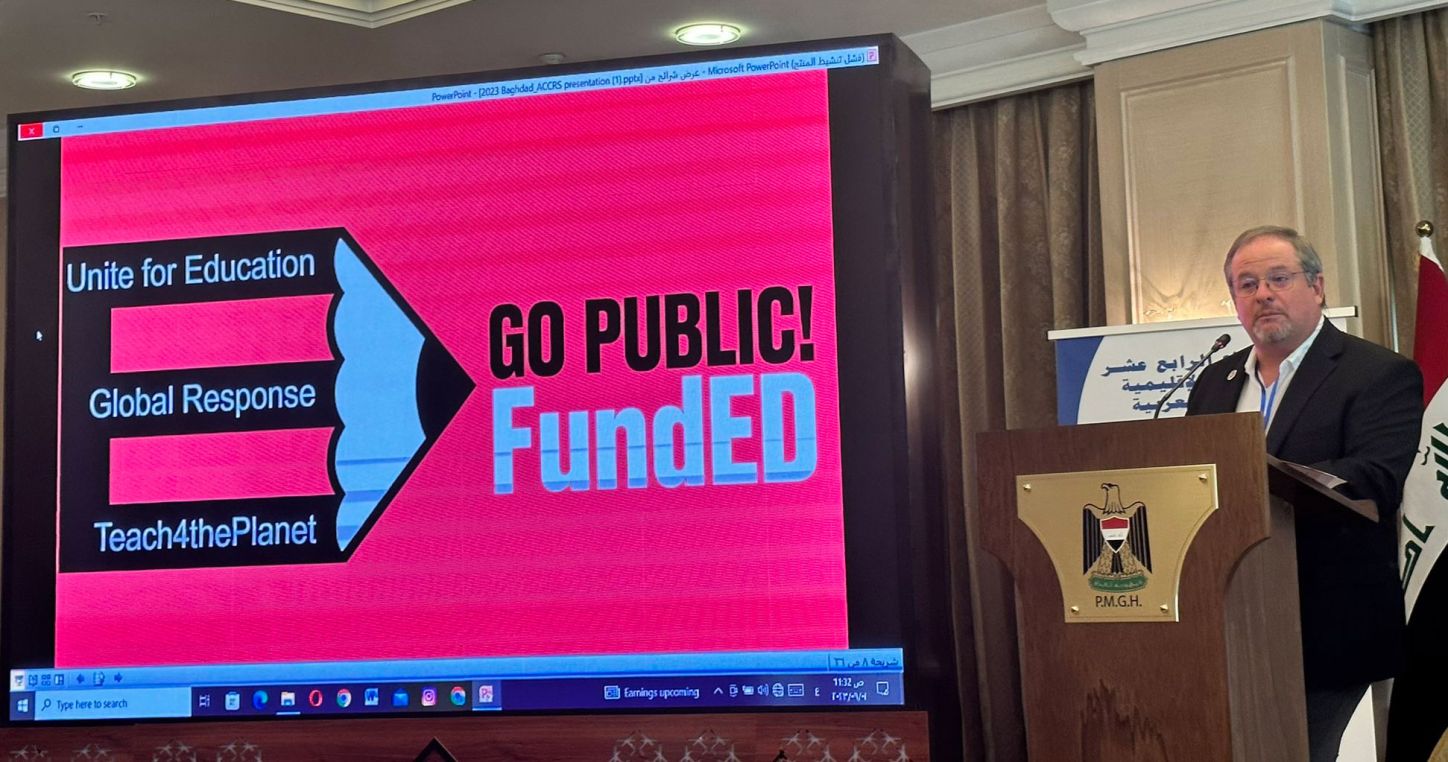 For EI Vice-President, Mugwena Maluleke, "The Go Public! Fund Education campaign calls for a transformative investment in teachers and support staff, essential for empowering the next generation to build a better, fairer, and freer society."
Manal Hdaife, Chairperson of EI ACCRS, explained that "we need to build a well-resourced equitable education system that empowers, respects, and values teachers and education professionals in Iraq and globally. The status of education funding in the Arab region is far from sufficient. Most countries allocate less than 6 per cent of their GDP to education. In countries suffering instability and states of emergency, international funds granted by donors for education barely cover 3.5 per cent of the total budget." Therefore, "investing in education in those countries is a moral imperative", she insisted.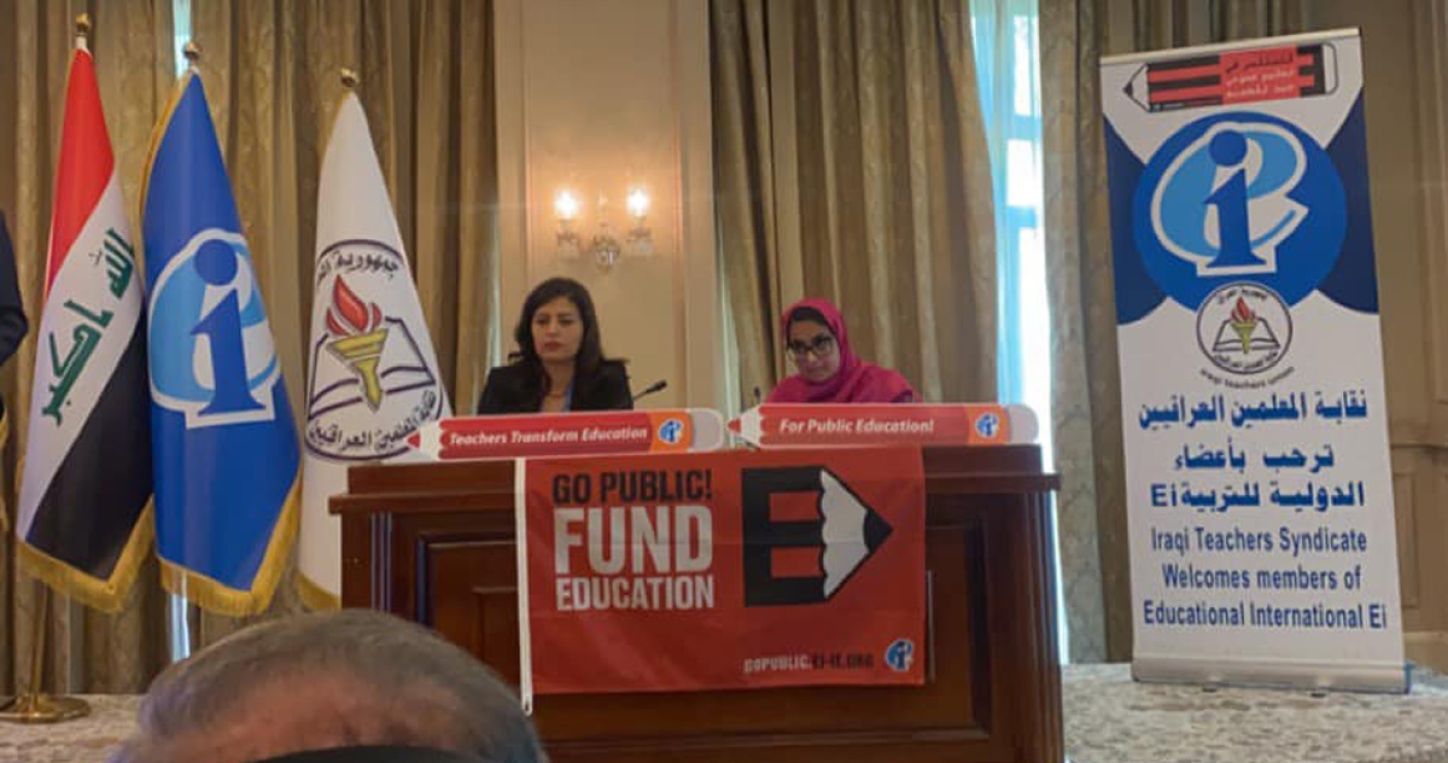 ITU President Abbas Al Sudani said: "The Go Public! Fund Education campaign comes at a critical time for the Arab region, where education funding is highly inadequate, and many countries are grappling with instability and emergencies. As the president of the Iraq Teachers' Union, I have witnessed firsthand the challenges faced by our educators and the dire need for increased investment in public education and the education workforce. This campaign represents a united effort to confront and reverse privatisation and commercialisation, advocate for quality and inclusive public education, and strengthen quality public education. Together, with the support of Education International and its member organisations, we can make a difference in the lives of our educators and, ultimately, our students."
EI ACCRS member organisations therefore adopted the statement "Funding the Future: A Call to Action for Public Education in Arab Countries", where they demand enhanced investment in public education and the education workforce.