Education is crucial in the fight against hate speech
published

4 October 2021
updated

11 October 2021
Students, teachers, and communities must have opportunities in education "to engage meaningfully with difficult issues and to hear multiple perspectives". Education International's President, Susan Hopgood, stressed this point in her remarks during a global gathering to unpack the role of education vis-à-vis the phenomenon of hate speech.
"We must educate against hate speech," Hopgood told a high-level panel during the Global Multi-stakeholder Forum on addressing hate speech through education. The forum was convened by UNESCO and the UN Office on the Prevention of Genocide and the Responsibility to Protect. From 30 September- 1 October, government representatives, scholars, teachers/educators, youth and human rights experts, civil society organisations, development partners, technology companies and artists gathered online, as part of the implementation of the UN Strategy and Plan of Action on Hate Speech.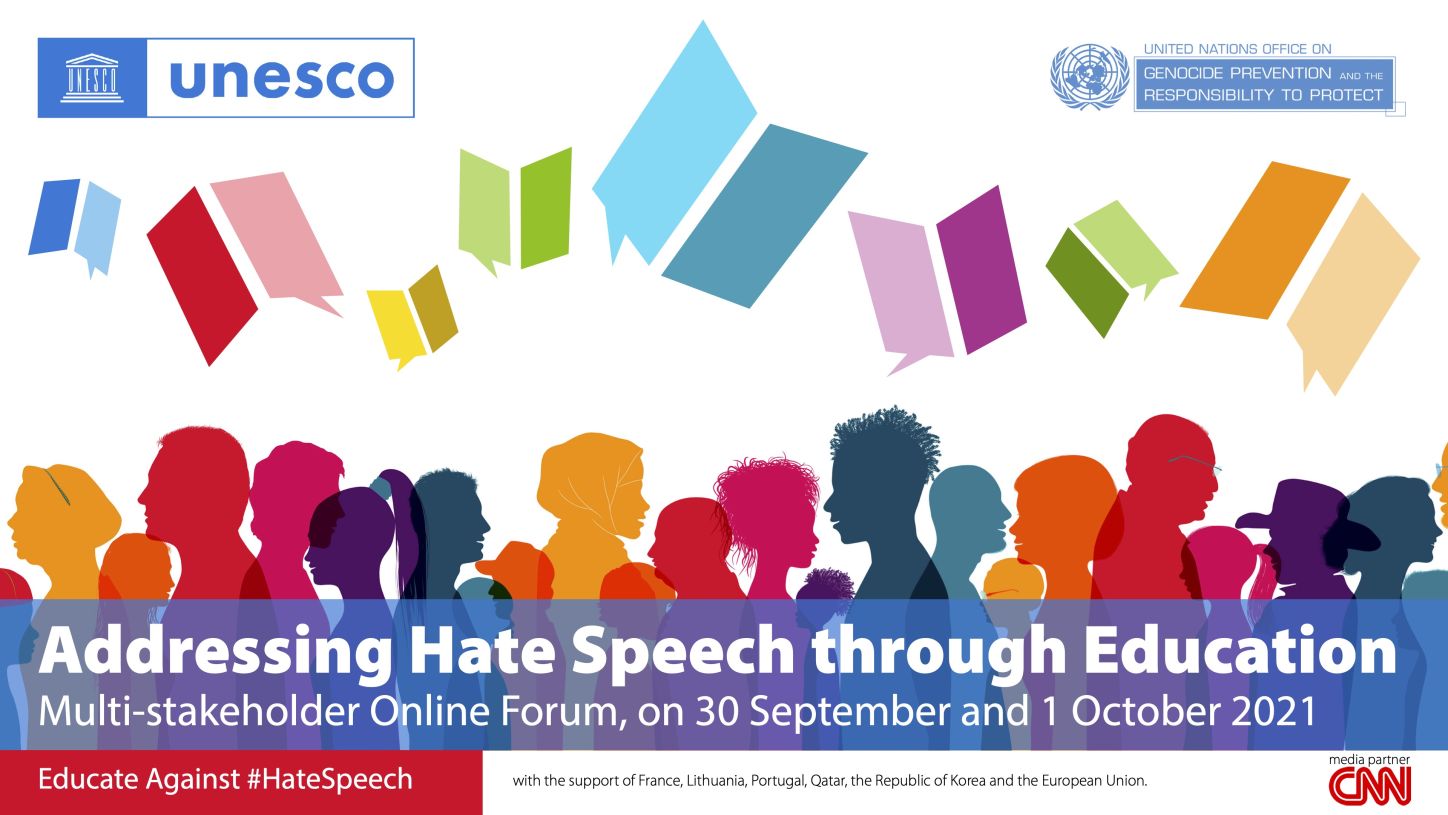 Enable inclusive, safe, and peaceful learning environments
Education International's President joined a high-level panel on "Policies and pedagogies to address hate speech through education: what kind of education is needed in today's world to build more peaceful and sustainable societies for all?" The panel highlighted the role of policies and pedagogies in dismantling prejudice and addressing hate speech. Panellists also discussed policies that enable inclusive, safe, and peaceful learning environments.
Hopgood criticised "a deepening of division, polarisation, and fragmentation everywhere". Addressing these issues must be built into teacher education programmes and continuous professional development right from the start, she added.
Transformative power of pedagogy
Misinformation often fuels hate speech, therefore, "as teachers, we must have the professional autonomy to teach expansively and through a broad range of subjects and topics to foster critical thinking among students".
Explaining that hate speech succeeds wherever people – especially children and young people – have not been supported to nurture a sense of themselves as equal participants in any given social context, the EI President stressed the need to take the decolonization of education seriously as a key educational issue: "Education in which students can see themselves, their languages, and their cultures offers a strong foundation on which young minds can build a positive and resilient sense of self.
"We just celebrated the centenary of the birth of Paolo Freire who taught so many of us worldwide about the transformative power of pedagogy to raise the consciousness of students to think critically and be agents of change," Hopgood concluded.
Wider role of pedagogy to foster just societies
The high-level panel also underlined that pedagogy and policy are important considerations for the UN Strategy and Plan of Action on Hate Speech. This is particularly the case in terms of fostering peaceful, inclusive and just societies, and to address the root causes and drivers of hate speech through education.
Other key speakers included the Portuguese Republic's Minister of Education, Tiago Brandão Rodrigues, UN Special Rapporteur on the right to education Koumbou Boly Barry, Global Campaign for Education President Refat Sabbah, and UNESCO's Chair in Human Rights and Higher Education, Felisa Tibbitts.
The Forum will serve to provide inputs for the upcoming "Global Education Ministers Conference on addressing hate speech through education" on 26 October 2021.