India: Strengthening unions through membership digitalisation and improved communication
published

21 June 2022
updated

1 September 2022
The benefits and potential of information technology (IT) in building and supporting union membership was at the heart of a recent workshop of Indian education unionists.
From 8-10 June in New Delhi, members of the All India Primary Teachers' Federation (AIPTF) affiliates in the Uttarakhand and Jharkhand states shared concepts and ideas about IT infrastructure (membership database, website, and App) concepts and ideas. During the workshop, "Membership Digitalisation and Building Union Communication", unions provided feedback on their IT infrastructure. They also discussed the introduction of digital membership database management systems, decided on an implementation timeline, and explored possibilities for the future.
The workshop was organised under the framework of the 'Trade Union Transformation through Capacity Building within the Digital Economy" Project. Attended by members URPSS (from Uttarakhand state) and JRPSS (from Jharkhand state), the workshop was supported by Education International's Asia-Pacific (EIAP) regional office and the Swedish union, Lärarförbundet. Participants included the AIPTF President and General Secretary, women leaders, and leaders from the selected districts.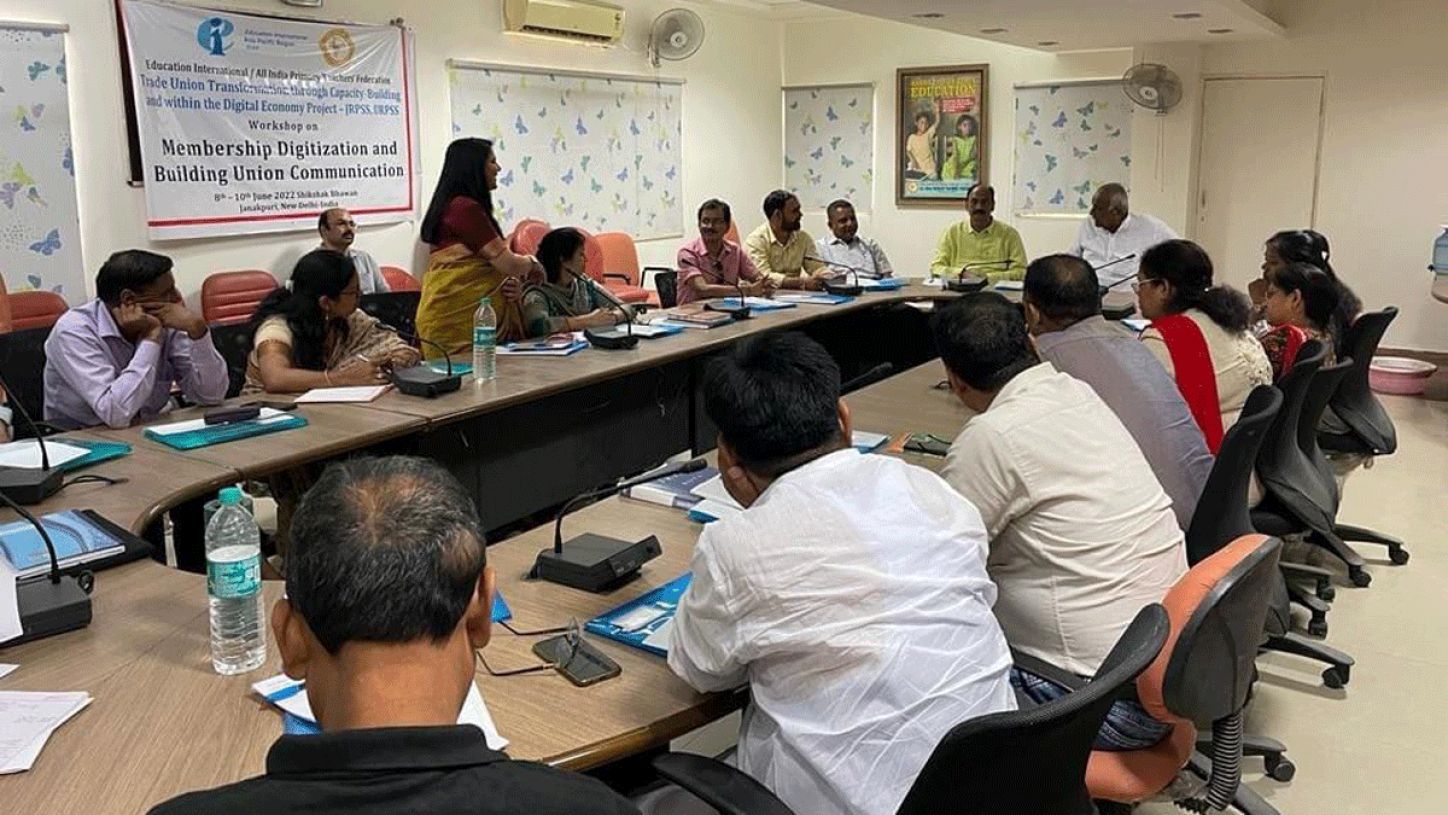 EIAP: Need to adapt and stay relevant
EIAP Chief Regional Coordinator Anand Singh addressed the workshop's inaugural session. He emphasised the importance of changing the ways in which unions work and adapt to new ways and means in unions' work. This included how unions engage with members and other stakeholders, as well as the need for union renewal to stay relevant and strong.
Singh cited examples of how unions used modern technology during the pandemic to continue their work and stay in contact with members. He stressed the need to use technology in the unions' day-to-day work to assist them, and to establish two-way communication with members, using technology for organising and campaigning.
AIPTF: ICT central to union renewal
AIPTF President Ram Pal Singh also emphasised that union renewal is about evaluating what is working and what it not working. This involves unions assessing how they can engage with members, society and governments as well as how unions can meet members' aspirations, and whether or not unions have the proper structures and processes in place to meet their objectives. He added that union renewal is highly important and suggested that unions should use new tools and information and communication technology (ICT) for engaging with members and the community at large, maintaining membership and dues payment records.
Union presentations
Both state unions then presented their structure, functioning, and current state of affairs. They detailed their day-to-day operations, their internal and external communication models, the role and responsibilities of union leaders at local, district, and state level, and explained how they recruit membership, how and by whom membership dues are collected.
Membership database management system
The IT team from the unions introduced the proposed membership database management system and related tools. A live demonstration showed how union membership can be digitised, how to add and approve existing or new members, track dues payment status, source disaggregated membership reports, and use the platform to communicate with members.
Participants discussed how these reports would help them to reach out to their members effectively, manage their unions' operations, and target 'weaker' areas in terms of unionisation (using demographic data). As all union leaders are also full-time teachers, the new system showed how much time could be saved using this data.
They further learnt how to issue meeting invitations, register complains, handle issues (such as ticketing), initiate surveys, call leadership meetings, and so on, using IT tools available on their union website.
Practical uses of database system
On the second day of the workshop, attendees debated how to ensure that the software system can be specifically tailored to the needs of both unions. They went on to discuss how to develop a membership database from which existing members' records could be captured digitally. However, for now, they agreed unanimously to collect existing members' data offline. New members' data could be collected online later.
Another session focused on the content of a membership data collection form. The unions insisted that the online platforms (websites and software tools) should have a user-friendly interface and choice of language.
Building union communication
The third day of the workshop focused on building union communication. This included a presentation on a suggested union website, social media platforms, and web app. A draft website designed for unions was displayed and the union leaders were requested to provide content for the website within an agreed timeframe.
Participants noted that the unions' current mode of communication (both internal and external) is limited in nature and does not make use of modern IT tools and infrastructure. They were introduced to various social media tools like Twitter, Facebook, YouTube, and communication tools (blogs, opinion pieces, infographics, videos). The IT team outlined the structure of these platforms and how these tools could help them to amplify and spread messages to fellow members. It was agreed to launch a union presence on various social media platforms. In addition, a customised interactive application (app) will be designed exclusively for the unions, with union leadership trained to use it at a later stage of the project.
The participants acknowledged the possibilities in communication through the effective use of a website, social media, and other applications. They came to understand how these tools could be used for effective internal and external communication which would enable the unions to organise, train, and reach their membership.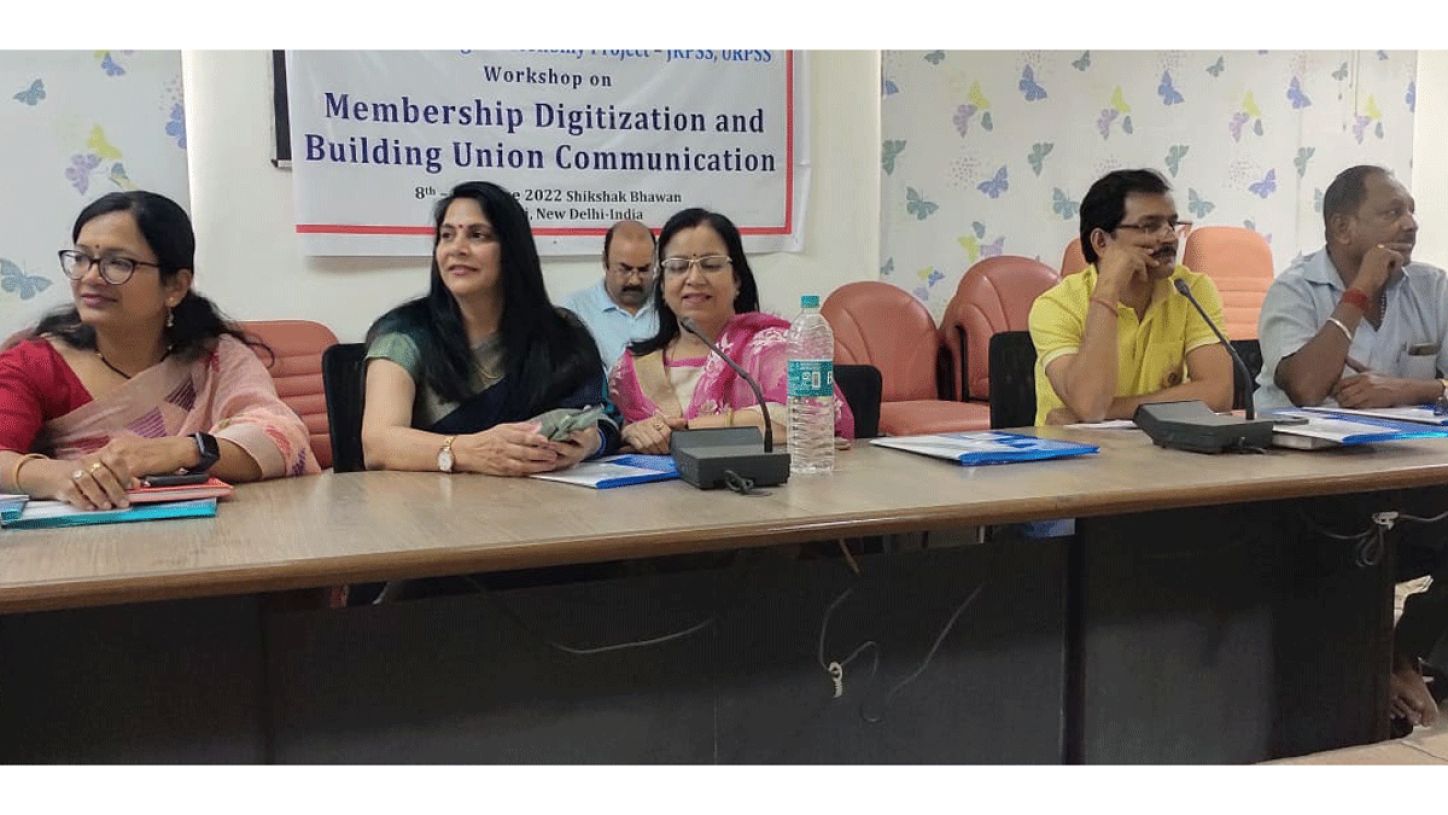 Effective workshop, decisions made, timelines assigned
At the end of the workshop, clear roles, responsibilities, and timelines were assigned to specific union leaders in both Indian states regarding decisions taken during the workshop.
Key conclusions and deadlines included:
Content for union websites to be made available by both the unions in their choice of language to the IT team by 30 June 2022.
Data for 10,000 members to be collected by both unions (5,000 each) through the data collection form and provided to the IT team by 31 July 2022, for digital updating.
Union website and social media platforms to be made available for unions before October 2022.
Training programmes and user manual for union leaders and members (for website, apps, software tools, etc.) to be made available after updating membership database.
Buy in by union leaders
In his concluding remarks, AIPTF President Ram Pal Singh expressed his hope that this project will help strengthen the unions by engaging youth and women, using modern technology and adopting new ways of union work.
URPSS President Digvijay Singh said the innovative tools for union-related work adopted during this workshop will help unions improve their reach towards the grassroots level and newly appointed teachers.
The use of ICT and digitisation will play an important role in strengthening the unions, stated JRPSS General Secretary Yogendra Tiwari. He pledged that his union would implement the key decisions agreed upon by his union in a timely fashion.
EIAP Chief Regional Coordinator Anand Singh thanked national and state leaders for participating in the workshop and acknowledged Lärarförbundet for supporting this project. He urged the participating unions to actively engage in the timely implementation of the project. He also emphasised that "the use of IT will create a strong digital structure which will result in strengthening unions".