Philippines: Educators submit recommendations to ILO to ensure the protection of trade union rights
published

16 February 2023
updated

23 February 2023
Education International (EI) has welcomed the recent International Labour Organization High Level Tripartite Mission (ILO HLTM) to the Philippines. This mission is the result of longstanding advocacy by human and trade union activists in this country, and EI national member organisations – the Alliance of Concerned Teachers (ACT), the Federation of Free Workers-Trade Federation VIII (FFW), the National Alliance of Teachers and Office Workers (SMP-NATOW) and the Teachers' Organisation of the Philippine Public Sector (TOPPS).
After more than three years of campaigning and delays by the government, the ILO HLTM to the Philippines was finally held from January 23rd to 26th.
The mission investigated union complaints of extra-judicial killings, red-tagging and other trade union harassment in the Philippines. One of its key recommendations to the Filipino public authorities is to establish "a single presidentially mandated body empowered to comprehensively identify and address through a specified plan of action, including time frames, resources and accountability, all outstanding cases of alleged labour-related, extra-judicial killings and abductions." The Filipino Government is expected report back on progress to the ILO before the 2023 International Labour Conference, which will begin on June 5th.
ACT recommendations
On the last day of the mission, ACT, one of the organisations having lodged the greatest number of cases to the ILO, submitted recommendations to protect trade union rights in the Philippines.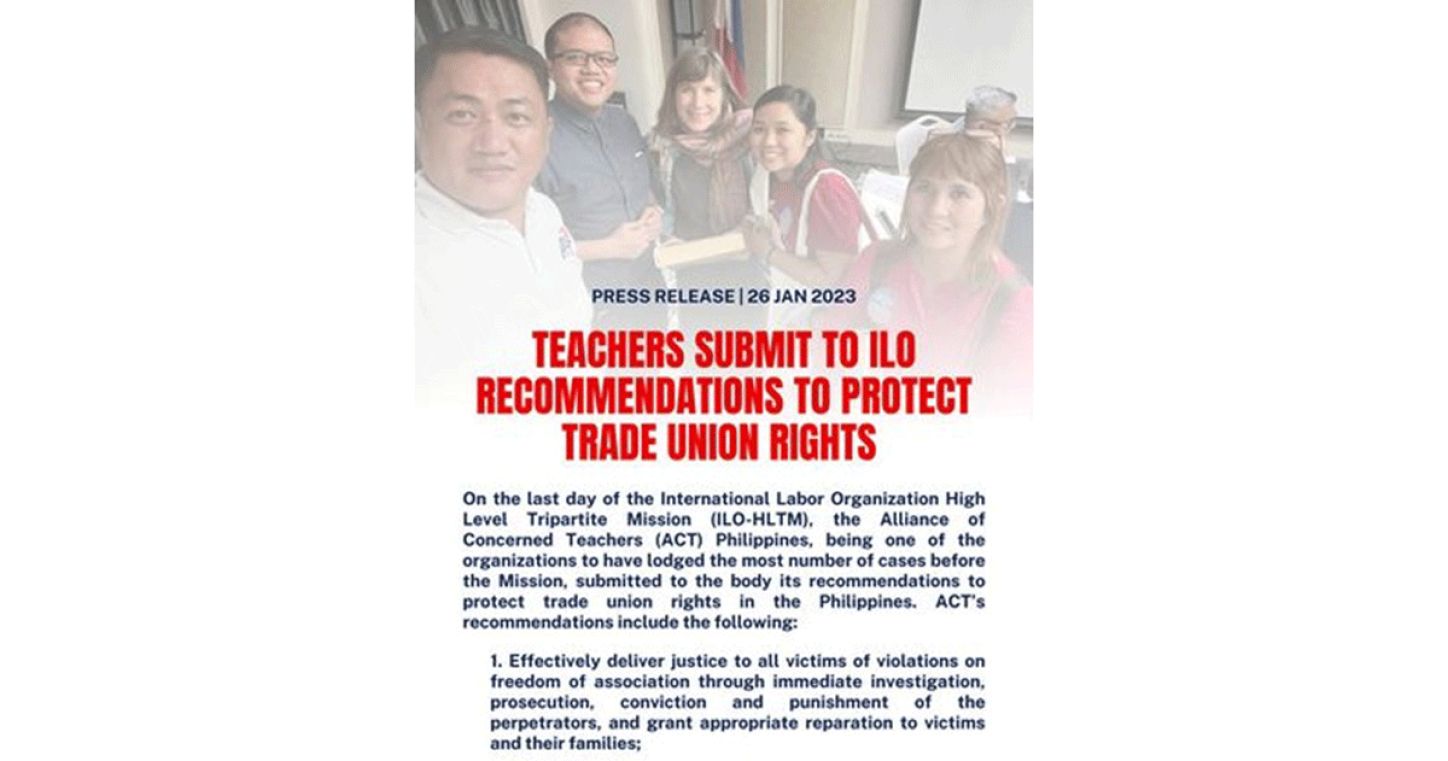 Its recommendations include the following:
1. Effectively deliver justice to all victims of violations of freedom of association through immediate investigation, prosecution, conviction, and punishment of the perpetrators, and grant appropriate reparation to victims and their families.
2. Rescind all legislation and executive orders that enable violations of the rights to organise and of free association of teachers and working Filipinos, such as Executive Order 70 and the Anti-Terrorism Act. The National Task Force to End Local Communist Armed Conflict must also be abolished.
3. Halt the implementation of counter-insurgency campaigns from where attacks on unions and unionists emanate, such as illegal profiling, red-tagging, harassment, manufactured charges, forced disappearance, and extra-judicial killings.
4. Stop the interference of police, military, and civilian government agencies in union processes, such as certification elections, negotiation of collective agreements, union organising as well as other union activities.
5. Adopt legislation to achieve public sector teachers and workers' rights to collective bargaining and peaceful concerted activities, including the right to strike.
6. Criminalise red tagging through legislation.
7. Provide victims of attacks on teachers' and union rights with legal assistance and protection from retaliation, including in remote areas.
8. Invite the United Nations Human Rights Council and the UN Special Rapporteurs on the Right to Education and on the Promotion and Protection of the Right to Freedom of Opinion and Expression to carry out independent investigations about teachers and educators in the Philippines.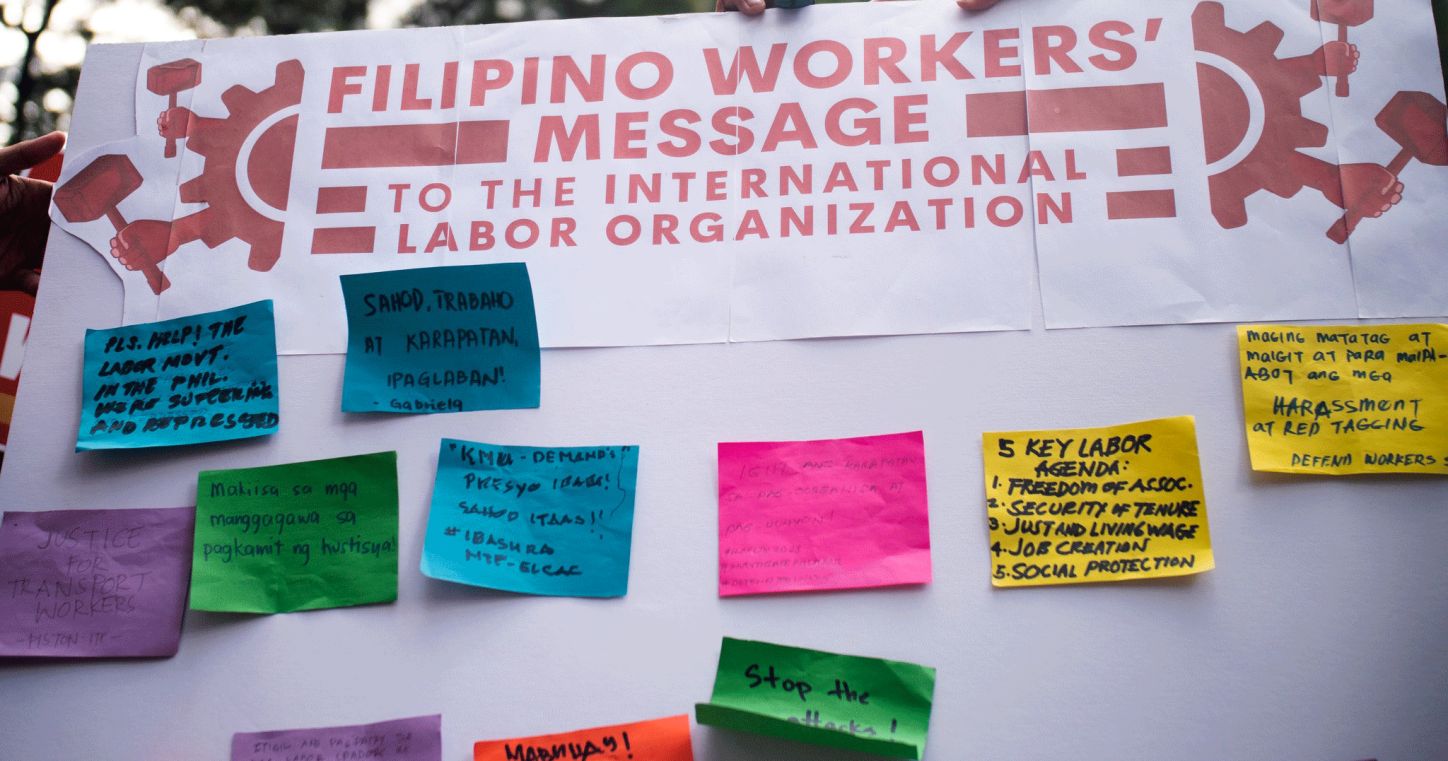 No positive action from the new government to improve workers' lives
"The mission's four-day investigation in the Philippines hopefully gave its members a clear picture of the prevalent state-sponsored attacks on workers and their unions. Our teachers expect that the ILO mission will compel the Philippines government to finally end the systemic and systematic violations of freedom of association," stressed ACT General Secretary and EI Executive Boad member Raymond Basilio.
He concluded: "Seven months in office and the Marcos administration has not done a single positive move to improve the fate of our workers struggling with low wages and high prices, while attacks on our union rights continue after the former Duterte regime. While we intensify our defense of workers' rights locally and nationally, we hope to get the support of international bodies to make the government accountable for its violation of labour rights and neglect of workers' welfare."
International solidarity
"Education International and education unions around the globe stand in full solidarity with their Filipino colleagues," Education International General Secretary David Edwards stated, adding: "We are supporting and will continue to support their struggle until they see their trade union rights fully respected and implemented. We urge the government to guarantee human and trade union rights and to put an immediate halt to shocking attacks against the people – in particular, Indigenous peoples students, human rights defenders, journalists, and peace advocates."
Education International will continue to closely monitor the situations of education activists and their unions in The Philippines.