Global conference: Education is the key tool to end child labour
published

19 May 2022
updated

20 June 2022
Education International and its member organisations underlined the importance of educators and their unions to eradicate child labour during the 5th Global Conference on the Elimination of Child Labour held in Durban, South Africa, from 15-20 May. They also highlighted the need to provide teachers with training, and to ensure education is free, available, and accessible to all.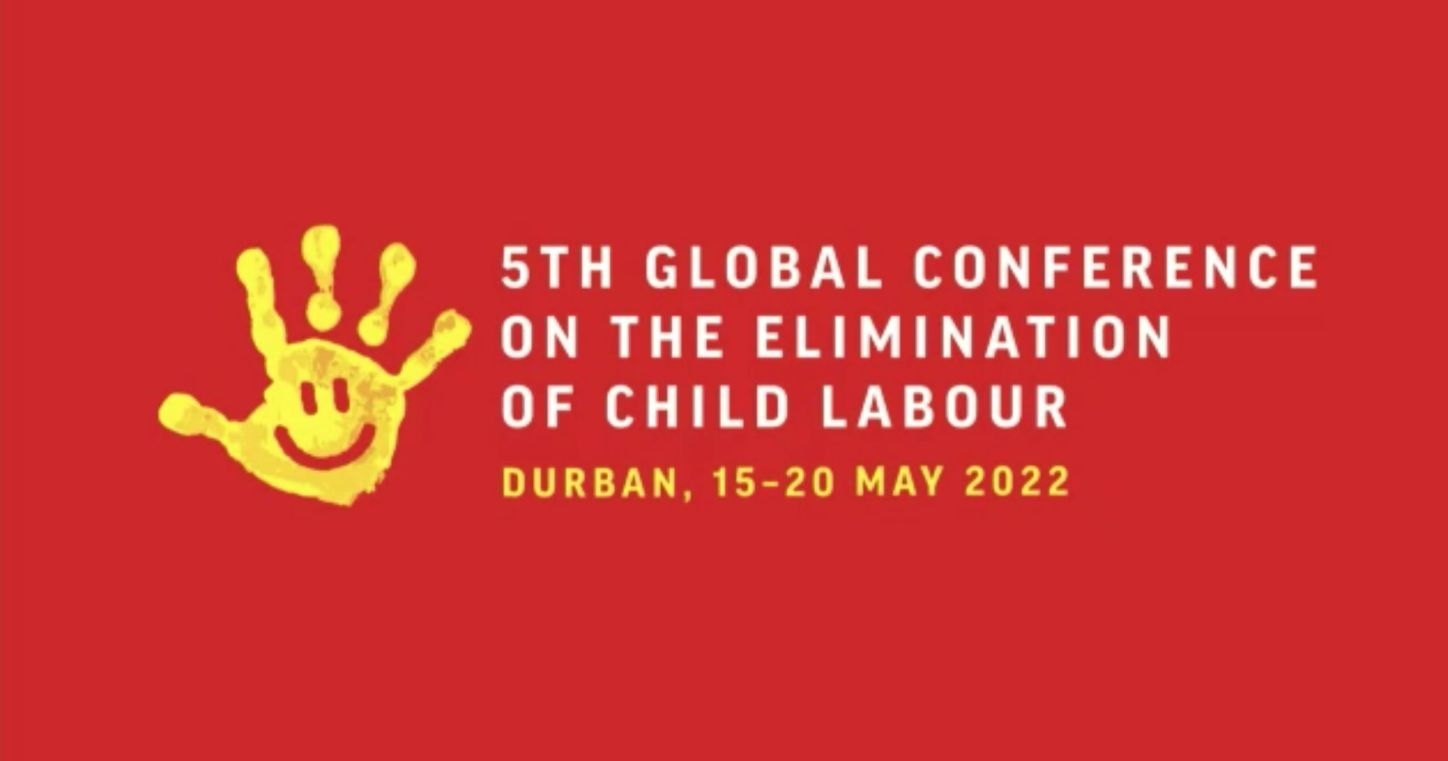 Education International organised a side event "Teachers' and their unions' successful mobilisation to bring children back to school post-COVID". The session explained how the profession and education unions have acted decisively to ensure an inclusive education recovery from the unprecedented COVID crisis. It aimed "to bring the experience of teachers, who are 'frontline officers' to bring children back to school and do their best to keep them in the classroom", as explained by Dennis Sinyolo, Director of the Education International's Region Africa (EIRAF) office and moderator of the discussion.
Taking the floor for the Zimbabwe Teachers' Association (ZIMTA), Angelina Lunga explained that while her country outlawed child labour in its constitution and laws, some people are not following the laws, so teacher unionists are working to eradicate child labour.
"Area-based approach" to eradicate child labour
"We use an area-based approach. We identify a small geographical area to lead our activities aiming to end child labour. We also train teachers and involve community leaders – religious authorities, local chiefs, etc. – and create child protection communities," she went on to stress.
Teachers organise activities carrying an anti-child labour message – mostly artistic ones like theater or dance – to raise awareness and discourage child labour.
While COVID-19 erased gains made in enrolment rates and increased school dropouts, child marriage or early pregnancies, when schools reopened, teachers resumed their activities to fight child labour.
For her, the way forward against child labour is to increase funding allocated to education to reduce the incidence of child labour, as there should be no obstacle to schooling due to school fees for example.
Pilirani Kamaliza of the Teachers' Union of Malawi (TUM) also detailed his union activities to eradicate child labour.
He told participants: "In Malawi, my union TUM focuses on prevention, targets children at risk of child labour, and uses the child labour-free zone concept. Child labour is mostly present in agriculture."
He added that his union appreciates the role teachers play in the fight to end child labour: "A teacher is the first person to notice when a child misses classes or is at risk of child labour. So we train teachers, who also provide children victims of child labour with remediation classes."
Back-to-school campaign in the wake of the COVID-19 pandemic
After COVID-19, TUM noticed school attendance dropped dramatically, as the pandemic diluted progress made so far.
But when schools reopened, they embarked in a back-to-school campaign, Kamaliza said, underlining that thanks to this campaign, in December 2020, TUM noticed that the total enrolment rate was higher than pre-COVID in the zone targeted by the union's project in Kabwinja.
He also reminded all that his union reassured parents and children concerning health and safety issues in schools.
"Data management is a key factor, as in the chosen area to fight child labour, the number of children acknowledged by the local chief must be the same as the number of children in schools," he also said.
"Education is the most powerful weapon to eradicate child labour"
Addressing a thematic panel focusing on education, EIRAF Director Dennis Sinyolo rephrased the Nelson Mandela quote, saying that "education is the most powerful weapon to eradicate child labour".
He went on to mention five key teacher and union strategies to get children out of work and into school:
Research and evidence.
Advocacy and social dialogue.
Awareness raising.
Community mobilisation.
Creating safe and inclusive school environments.
He was also adamant that governments must support teachers through training, continuous professional development, decent salaries and working conditions.
He further insisted that, for Education International and its affiliates around the globe, "education must be made genuinely free, available and accessible to all". This, he said, calls for adequate investment in education by allocating at least 6% of GDP or/and at least 20% of the national budget to education.
"The school is the best place for all children"
Also speaking at a side event on "Integrated area-based approach: to tackle child labour at the root and ensure the right to education," TUM's Kamaliza went on to underline: "The school is the best place for all children. Children should learn, get quality education, and not be involved in child labour. Child labour must be condemned."
To end child labour, he emphasised, TUM considers all key components of the school community: teachers, parents, community chiefs, school direction. He also explained that "we also empower children to speak about discrimination, about child labour, on behalf of child labourers."