COP 27 is another cop out – but education unions continue to build the change our planet needs
published

30 November 2022
updated

22 December 2022
As the 27th United Nations climate change conference (COP) came to a close, it was clear that the global political community had, once again, failed. Despite unequivocal scientific evidence that human-induced climate change is causing widespread losses and greenhouse gas emission must rapidly decline, the conference did not agree to phasing out the use of fossil fuels. Instead, the Sharm el-Sheikh Implementation Plan simply reiterated the call to phasedown "unabated coal power", thereby signifying a lack of progress on mitigation and a refusal to commit to taking the most crucial actions necessary to limit global warming to within 1.5 degree.
However, there were some victories. After years of campaigning from civil society including trade unions, COP 27 agreed to establish a fund for loss and damage. The fund still needs to be operationalized and money must be put into it, but this historic decision finally recognises the meaning of climate justice - that those countries who caused climate change must pay up and compensate those countries that despite emitting little, are suffering from the most devastating climate impacts.
Furthermore, union demands were heard, as the conference decision recognised that a just transition to a low carbon economy requires social dialogue with workers. In education, this means that education unions must be at the table to negotiate contract and policy reforms as the sector and educators' working lives are increasingly impacted by the climate crisis. The conference decision also called for social protection, but failed to explicitly recognise labour rights.
Meanwhile, the abysmal human rights record and the lack of civic space within the host nation, Egypt, was front and centre of international reporting on the COP presidency, despite the government's efforts to portray itself as leaders in sustainability. During the conference, EI Executive Board members called for an end to violations of freedom of expression in the country and the release of all arbitrarily detained activists. COP has brought these issues into the spotlight, but continued pressure is necessary to ensure that Alaa Abdel Fattah and others are freed.
Education's role is recognised, but no new country commitments made
Education is not at the core of COP negotiations, and it remains largely unrecognised by countries' nationally determined contributions. EI's recent research shows that of 140 new or updated NDCs submitted to the UNFCCC since 2021, only about a third mention education, most of these countries with greater climate vulnerability. However, education is a key pillar of the Action for Climate Empowerment agenda, for which a four year action plan under the Glasgow work programme was agreed at COP 27. The plan mandates, among other things, the UNFCCC Secretariat to map and collate guidelines and good practices on climate education annually.
Climate education is quickly becoming a more visible topic at the COP and in the unofficial programme. This year, for the first time, there was a Climate Education Hub – a pavilion devoted entirely to events and discussions on the climate-education nexus. Here, two weeks of event programming focused on multiple aspects of climate education. For example, the pavilion was a space for indigenous youth to highlight the importance of climate education that respects indigenous knowledge. It was also the site for the launch of the Coalition for Climate Education – a large consortium of young climate activists and organisations mobilising to achieve universal climate literacy.
EI hosted two events during COP, one panel which explored what constitutes "quality" climate change education and the other focused on how to ensure a just transition in education. These valuable in-depth discussions between representatives from the teaching profession, youth, and international organisations highlighted the importance of collaboration to transform, decolonise, reform and fund education systems to be climate resilient and guarantee a just transition for the education workforce.
Making education infrastructure resilient to the impacts of climate change was also a key issue. From the most extreme impacts, such as the 22,000 schools destroyed by floods in Pakistan in September, to school closures caused by storms and heat waves in Europe, educators are keenly aware of the vulnerability of outdated infrastructure: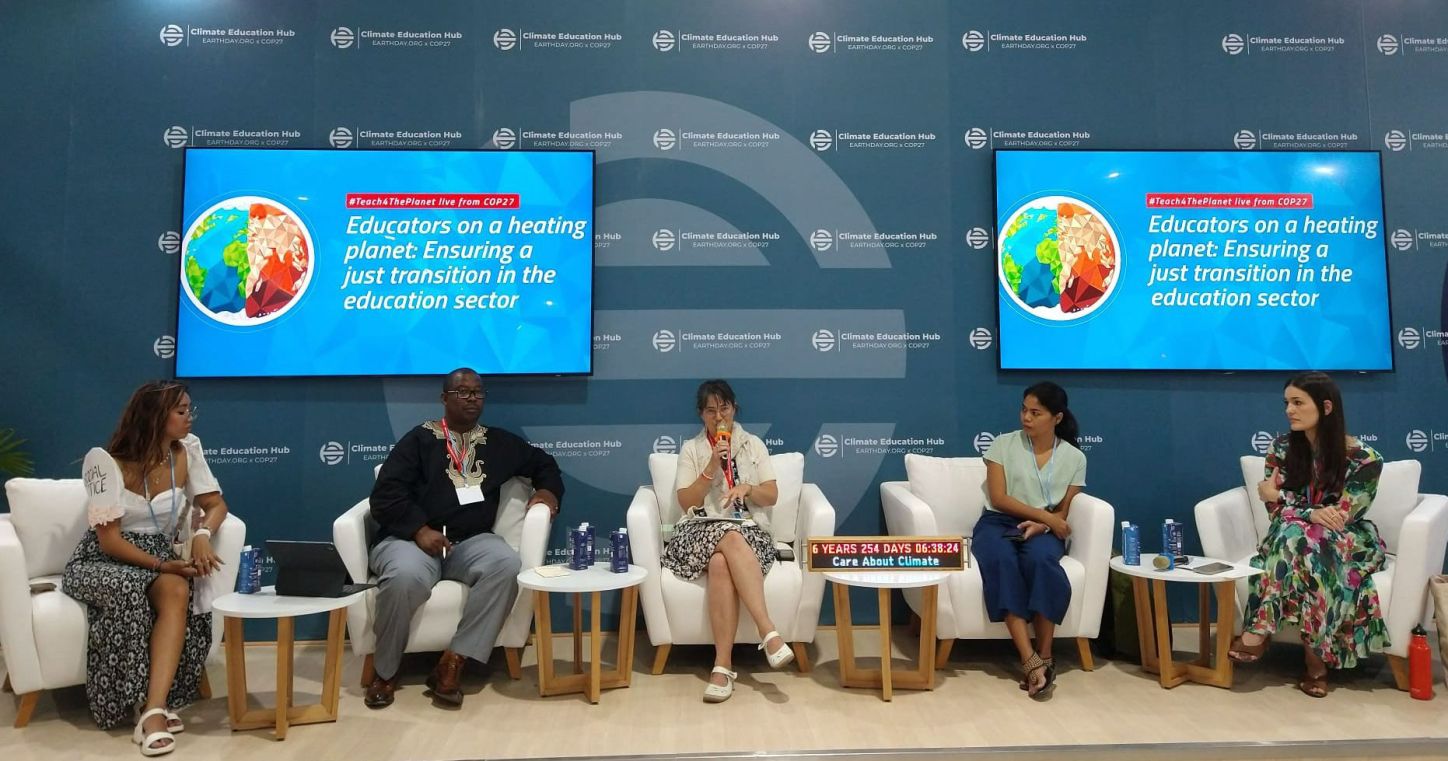 EI also participated in the inaugural meeting of the UNESCO Greening Education Partnership which seeks to mobilise countries to take concrete actions towards greening their education systems. During the meeting, EI shared the education union movement's vision for quality climate change education for all and committed to support the partnership.
During the event, EI's Director of Policy, Research and Advocacy, Antonia Wulff, also stressed the critical role of public education, stating: "We need to invest in our public education systems in order to ensure quality climate education for all students, everywhere. Some countries spend more on fossil fuel subsidies than they do on education. We must demand real change."
EI championed the initiative alongside youth representatives in an event focused on discussing the partnership's implementation, pointing out in particular the importance of professional development for teachers on climate education. Sifiso Ndlovu, CEO of the Zimbabwe Teachers' Association, highlighted this point, stating: "We must green the capacities of our teachers and support them to remain relevant so that they can in turn support their students with the knowledge they need to navigate the climate crisis."
The COP programme included a ministerial event with ministers of education and environment in dialogue with youth on transforming education to tackle climate change. The aim was to build on commitments made at the first ever Education and Environment Ministers Summit held at COP26. However, the COP 27 ministerial was disappointingly less high profile than the year before (perhaps unsurprising as the Egyptian presidency's nationally determined contribution does not mention education even once). At COP 26 only 22 commitments were made, but no new commitments were made at COP 27. The event also showed that the education sector is not immune to greenwashing, with countries eager to portray themselves as climate education champions on the international stage, even when meaningful policy changes at the national level may not have occurred. Nonetheless, youth demands were clear: with 70% of youth surveyed saying they cannot explain climate change, systems urgently need to change to ensure all students receive quality climate education.
What now? Implementation: we need more, we need it now
In the closing remarks from the trade union delegation, the workers movement asked: "How much longer will you put profits before people and planet? This was to be the implementation COP, the Africa COP. But implementation is not on the scale or at the speed that workers need in Africa and world-wide. We need more, we need it now". Indeed, time is running out. We need action, not more empty talk.
As the sun sets on COP 27, EI will continue to fight for climate justice alongside trade unionists of all sectors. We will also continue to demand a just transition for all educators and quality climate change education for all students, everywhere. We will support and promote the success of the UNESCO Greening Education Partnership, so that by 2030, every country has sustainable education institutions, climate education in the curriculum, teachers that are trained and supported to teach for climate action, and climate education opportunities for adults. We will also continue to encourage all governments to recognise education as a powerful tool to address the climate crisis. This means including education in updated nationally determined contributions, but also directing climate funds towards adaption of education systems (currently only 0.03% of climate finance is allocated to education).
COP 28 will take place in Dubai, United Arab Emirates in November 2023. According to philanthropic organisation, Dubai Cares, this next COP is set to include an entire day devoted to education. This would bring welcome attention to our sector. However, whether or not this conference brings the international recognition we need of education's powerful role for mitigation and adaption, education unions around the world are relentlessly campaigning at the local, national and regional levels. EI members continue to drive forward the demands of the Teach for the Planet campaign in their countries.
The latest example comes from the University and College Union (UCU) in the UK. Together with colleagues in India, UCU produced a video on the devastating impacts of extreme weather events on educators and students. Watch it below!