Present in Brussels, Belgium, for a meeting of the Education International (EI) Development Cooperation Network, Don Howell, General Secretary of the Caribbean Union of Teachers (CUT) - an Education International umbrella body for teachers in the Caribbean - and President of the Saint Lucia Teachers' Union (SLTU), explained how education unions in his region took the COVID-19 pandemic as an opportunity to rethink their ways of operating, especially in development cooperation activities. He also showed appreciation for global solidarity by education unions with Caribbean unions counterparts.
Union activities greatly impacted by the pandemic
"The COVID-19 period was a very difficult one for unions in the Caribbean, we are very accustomed to vibrant union meetings, having our colleagues gather in one location to discuss issues," Howell stressed.
He acknowledged that with COVID-19, Caribbean education unions had to re-strategise what they do as a region.
Firstly, we did not understand what was happening, where it would lead, and how long we would be in the pandemic.
Secondly, it took us away from our culture, from our normal way of operating as trade unions, not being able to meet a member physically, he added.
Howell insisted that "not being able to really understand what is happening with your membership was difficult for any union leader. Even if you were to do online surveys for example, you feel the mood statistically, but you never really get the in-person analysis of issues that impact members. While many unions resorted to having their conferences and meetings, even workshops, online, you could never really assess the impact of the pandemic, or whether people were really listening to you on the other side. Is someone listening in? Or is it just a device logged on to the meeting and nobody is listening?"
He also said that meeting timeframes were impacted. "Before COVID, we could have a meeting that would last a day, however, online, it is extremely difficult to keep participants focused for long periods of time."
For Howell, other issues also surfaced during the pandemic, including the issue of working hours and workload, "because preparing for an online class or for a face-to-face class, these are two different dynamics".
Teacher training and lack of resources were other major issues.
He also criticised the fact that "unions had to fight off efforts from governments to erode some of the benefits that they had obtained through the collective bargaining process. Many unions got confronted with the fact that governments tried to cut educators' salaries when they were doing more work than before. And we have not seen or have any evidence that governments would have done something to show their appreciation for the work that teachers did. If anything, there was more criticism than appreciation."
Partnering with the Canadian Teachers' Federation (CTF), SLTU further collected empirical data for a study on the impact of COVID-19 on its members, Howell explained.
Saying that study findings revealed that psychosocial support was very much needed by members and that they were disappointed with the support received from the employer, He said that these results informed an action plan that the organisation is putting together.
The findings also gave an idea of what is happening in the Caribbean, as other unions in the region continue to engage their members in various ways to try to return to a state of normalcy after the pandemic and school shutdowns linked to it, because they still must deal with COVID-19 and other emerging diseases, he stressed.
Union work impacted by natural catastrophes and weakened collective bargaining process
Howell was also clear that "we can say that development cooperation helped during the pandemic, helped us to recover, and it still supports us, in several ways, and is critical to our survival."
He added that, apart from COVID-19, we also had natural disasters to deal with in Haiti – an earthquake –, in Saint Vincent and the Grenadines – volcano eruptions –, Belize – flooding.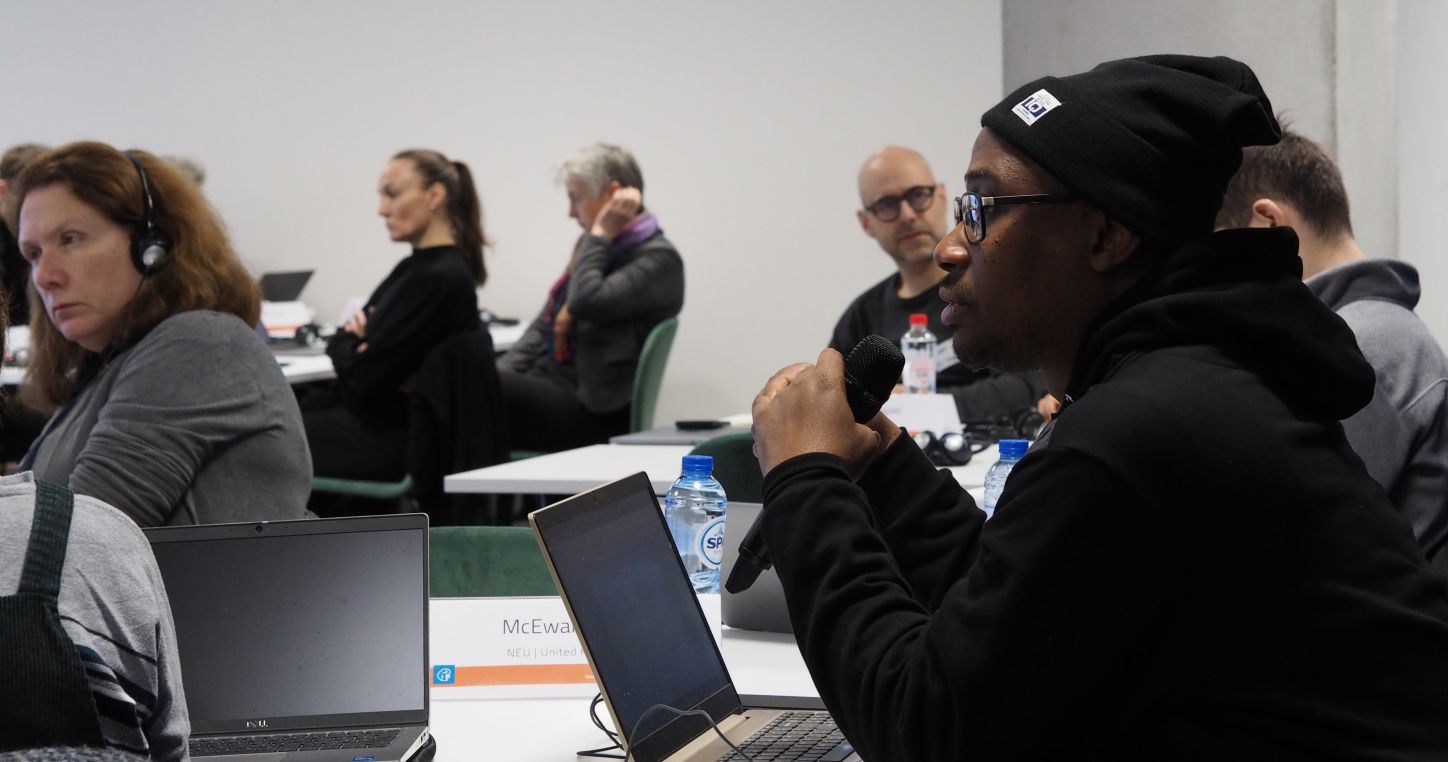 He noted that another issue for Caribbean unions is ensuring the continuation and preservation of the collective bargaining process and the eroding of some of the benefits.
"Development cooperation helped us to raise resources that we need to undertake work within the region and to develop strength in front of our respective governments in the region, as we can show that collective bargaining it is not an issue that we are fighting for alone, but that we have partners out there supporting us," Howell said.
We must also focus on capacity building, as we have changes in union leadership. He underlined that we have to ensure that the trade union philosophy within the teaching profession is always maintained, and development cooperation can help with that.