1.6 billion students were out of school at the height of the COVID-19 pandemic, millions are still struggling with trauma and learning loss. Teachers and education workers have done the impossible to support their students and school communities in this time of crisis. But the crushing workloads, poor pay, and lack of respect and autonomy are leading to burnout and a concerning number of educators leaving the profession they love.
Inequity, injustice, economic crisis, and harsh cuts to public education funding have put quality education for all at risk. Our students cannot wait. The time to act is now. We must transform education. Teachers and their unions are ready to lead this transformation!
What is at stake at the Transforming Education Summit
For the first time ever, heads of state from around the world are meeting to focus on education. Convened by the United Nations Secretary General, the Transforming Education Summit is taking place on 19 September 2022 in New York. This is an exceptional opportunity to get education back on track and work to ensure quality education for all by 2030.
Action is long overdue. The Summit is a crisis response: it aims to reverse the downward trends in education, with deepened and exacerbated inequity and cuts to education budgets. At the current pace, the world will fail to achieve Sustainable Development Goal 4 on quality education for all. Worse still, the COVID-19 pandemic has wiped out 20 years of education gains.
The Summit aims to rally political ambition, action, solutions, and solidarity to transform education.
Education unions mobilise
Education unions are actively advocating at national and international levels for the Summit to have concrete, tangible outcomes that advance teachers' status and rights, a commitment to investing in public education, and the fulfilment of the right to education for all.
Join our global movement to transform education
Here is what you can do to help make the Summit a turning point for education globally.
1. Use our advocacy toolkit!
If you are a union leader, download and implement our policy toolkit to advocate at the national level.
2. Speak up online
Make your voice heard on social media and ask your head of state to attend the Summit and make ambitious commitments to transform education.
Tag your head of state and feel free to use the suggested posts and images below.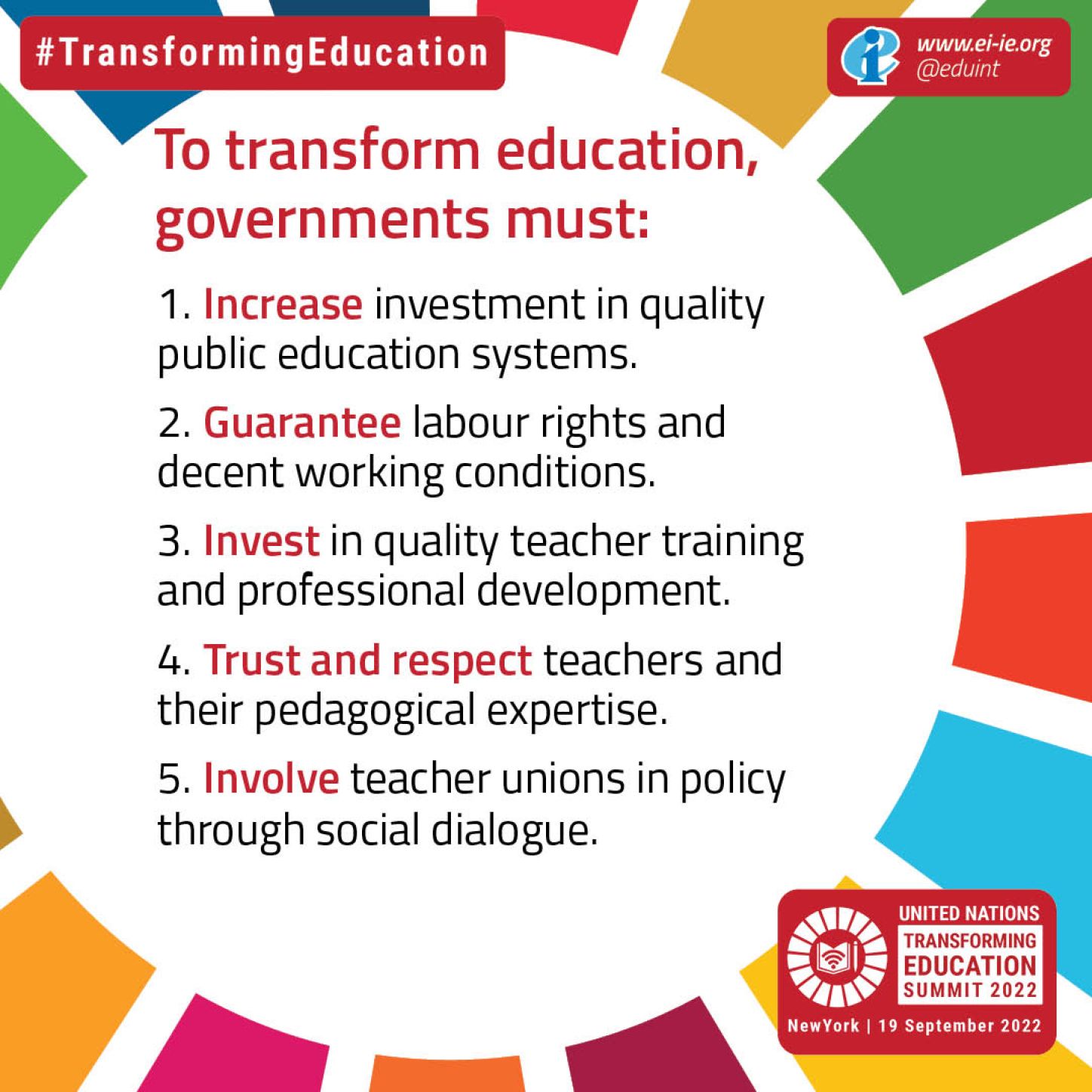 Tag us so we can share your message:
@eduint on Twitter
@EducationInternational on Facebook
@eduint on Instagram
3. Amplify our messages
Spread the word by sharing the posts below.
4. Inform your colleagues
Let your colleagues know about the Summit and what is at stake. Here are some Zoom or Teams backgrounds for your online meetings.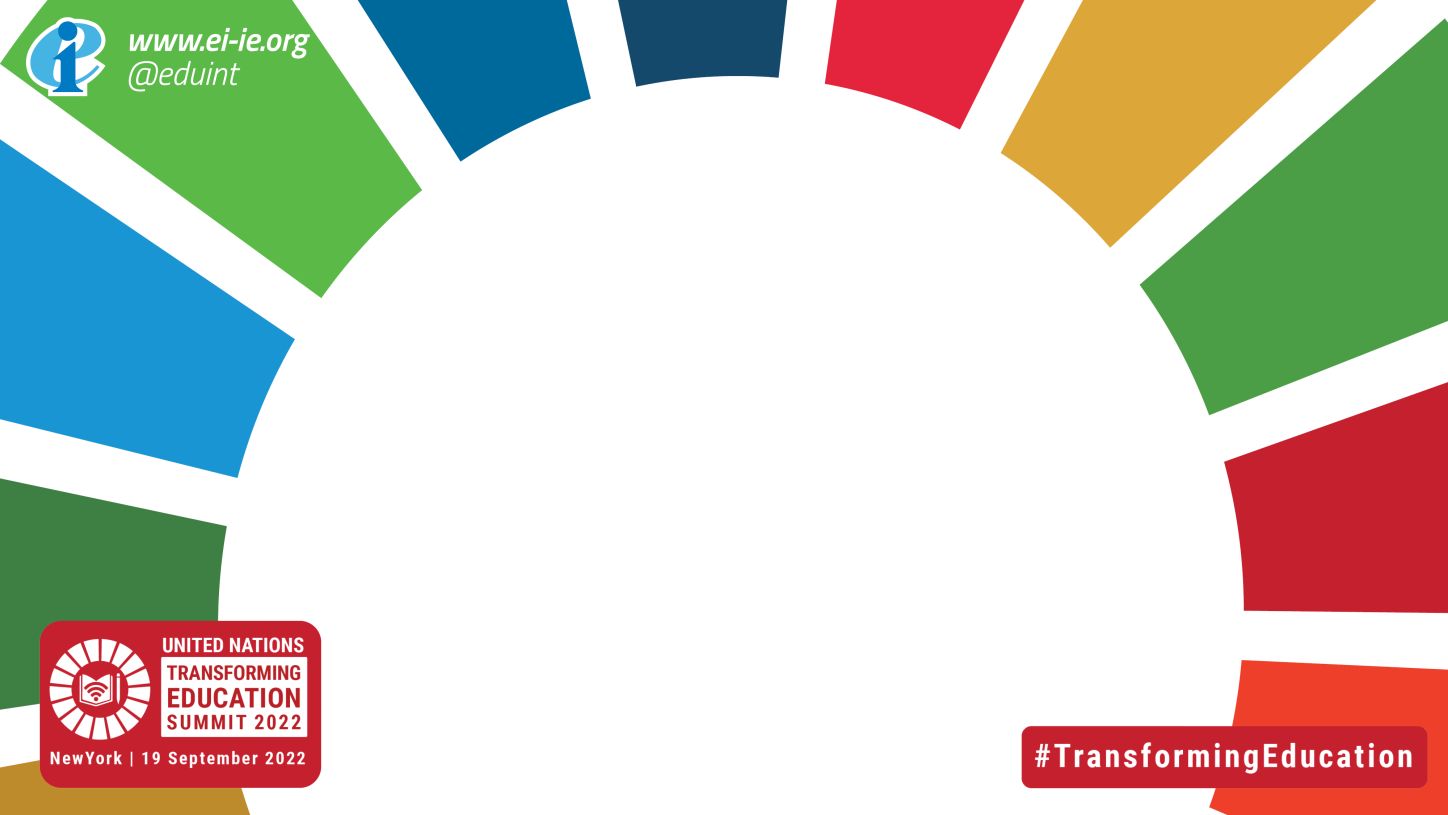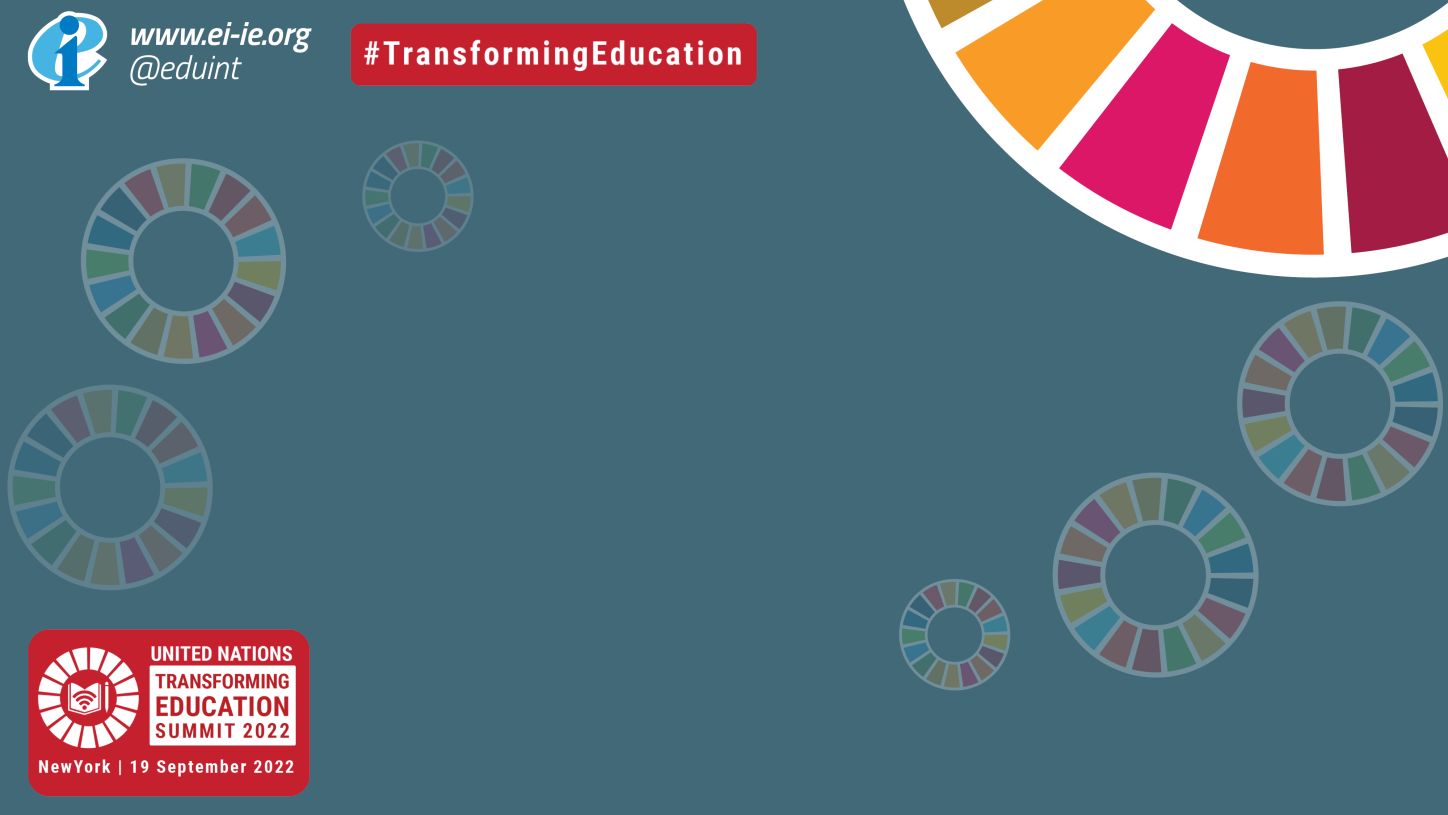 5. Follow the Summit
On 19 September, make sure to watch the Summit proceedings and take note of the commitments made by your head of state. These are commitments they need to implement after the Summit and for which you can hold them accountable.
Education International will be at the Summit to speak up for teachers and education staff everywhere. Follow us on social media for regular updates from the Summit.