France: Discussing inclusion among all educational professions, across all territories. It can be done!
published

7 November 2022
updated

8 November 2022
As part of the second annual meeting of education professionals organised by the Union Nationale des Syndicats Autonomes-Éducation (UNSA Education), 30 meetings in all regions and overseas territories will bring together more than 1,000 French educators on 15 November to discuss the question: "Inclusive society: what about education?"
Dozens of different education professions involved
This annual meeting, which took place for the first time last year to discuss educational inequalities, is an original event in the world of education: it enables dozens of different professions, including teachers, administrative staff, health and social workers, supervisory and inspection bodies, psychologists, educational staff and support staff for pupils with disabilities ( Accompagnants d'Élèves en Situation de Handicap - AESH) to compare notes.
This broad analysis, across the spectrum, is made possible thanks to the participatory methods devised by each territory and includes an afternoon round-table discussion organised at national level with experts on inclusion from the scientific and associative worlds.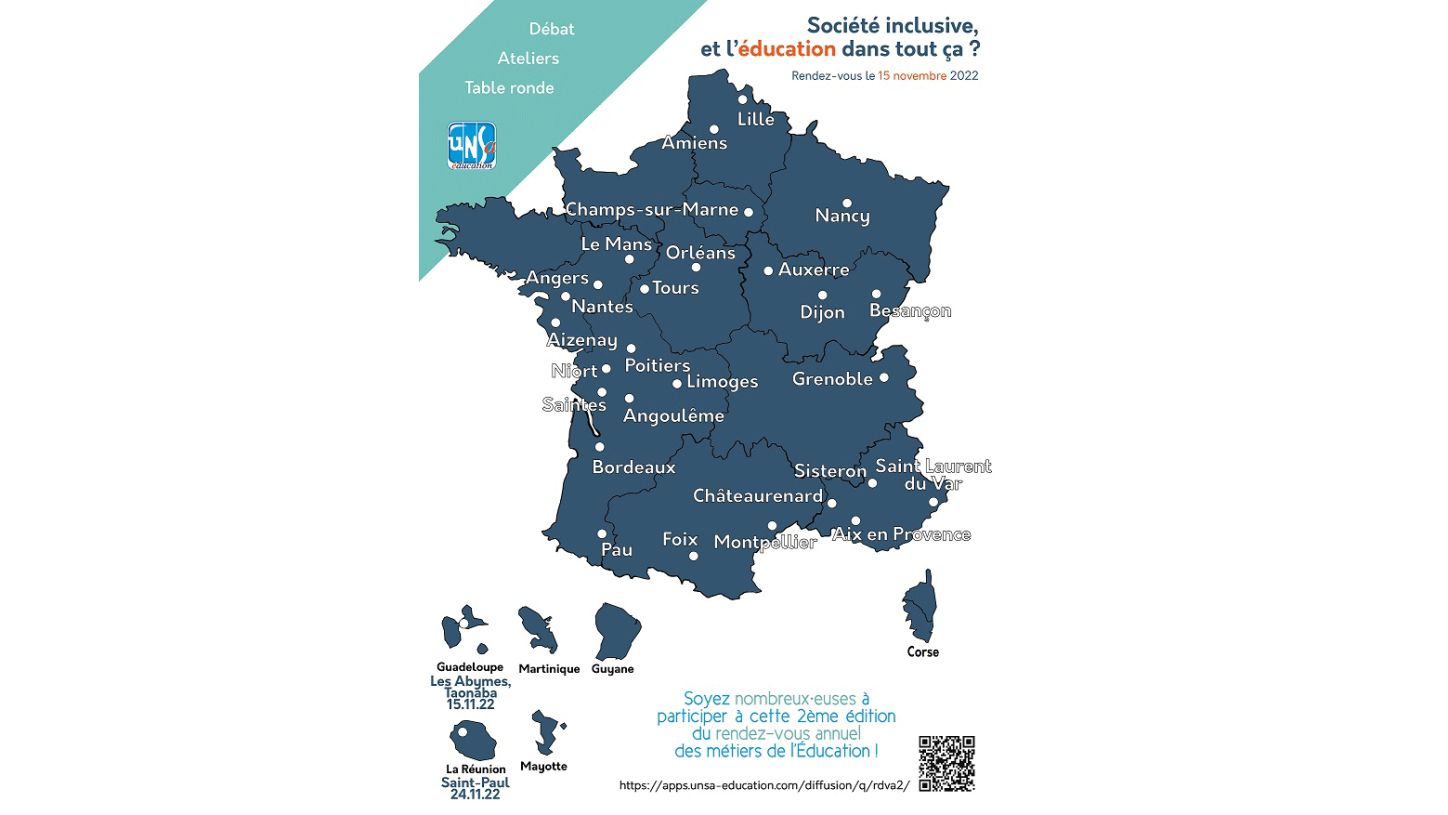 Towards an ideal of society through education
Béatrice Laurent, teacher-trainer and national secretary for Education and Culture at UNSA Education, who is coordinating this event, explains that this theme "aims to achieve an ideal society through education, and is a complex task that challenges all actors in the education system".
Inclusion is indeed a central issue for staff, users and parents, and UNSA Education, the French federation for education, research and culture, wants to place this subject at the centre of the educational debate. Laurent insists that this across-the-board approach is essential "to analyse change, to collect information on practices in the field, to improve the conditions under which we exercise our professions".
Inclusion requires changes in teaching practices, and thinking at the school and classroom level about how to better accommodate special educational needs, particularly through training and supporting staff.
It is a question of human and financial resources, and of the status of specialised staff who are often in a precarious position, such as the AESH.
Finally, it is a public service issue, a challenge for society as a whole, as the mechanisms linking organisations such as the departmental homes for persons with disabilities to schools and establishments are no longer fit for purpose, said Laurent.
Inclusion as a key factor in achieving Sustainable Development Goal 4
Education International congratulates UNSA Education for such an initiative and recalls that:
As stated in the Universal Declaration of Human Rights (United Nations, 1948) and in the United Nations Convention on the Rights of the Child (United Nations, 1989), every child has the right to a free, quality education; and
The Convention on the Rights of Persons with Disabilities (United Nations, 2006) requires governments to ensure that "persons with disabilities can access an inclusive, quality and free primary education and secondary education on an equal basis with others in the communities in which they live".
It also recognises the need to accelerate the realisation of the right to quality inclusive education, as recently reaffirmed in Sustainable Development Goal 4 on quality education, and advocates for decent working conditions in inclusive and accessible schools.
Education International's General Secretary, David Edwards maintains that "inclusive education means that all students should be educated together, to the same high standards, in the same educational institutions, as far as possible, regardless of their gender, religious beliefs, ethnic origin, cultural or economic background, and physical and intellectual abilities."
In addition, Education International has published "Are we there yet? Education unions assess the bumpy road to inclusive education", available here.