Inclusive, quality education: the key to ending child labour
published

7 July 2023
updated

25 September 2023
From India to Senegal, from Albania to Uganda and Mali, Education International (EI) members raised their voices in support of quality education to commemorate World Day Against Child Labour on June 12th.
More funding for public education is required to eradicate child labour
In the Asia-Pacific region, the All India Primary Teachers Federation (AIPTF) organised a High-Level Conference on the role of teachers and their unions in the fight against child labour in Delhi starting on June 9th. Specific actions carried out by Indian unions were given as examples.
The conference took place as part of WNBC, a programme to combat child labour that brings together AIPTF and other Indian organisations. AIPTF used the event to denounce the non-application of the Right to Education Act adopted in 2009, which mandates free and compulsory education.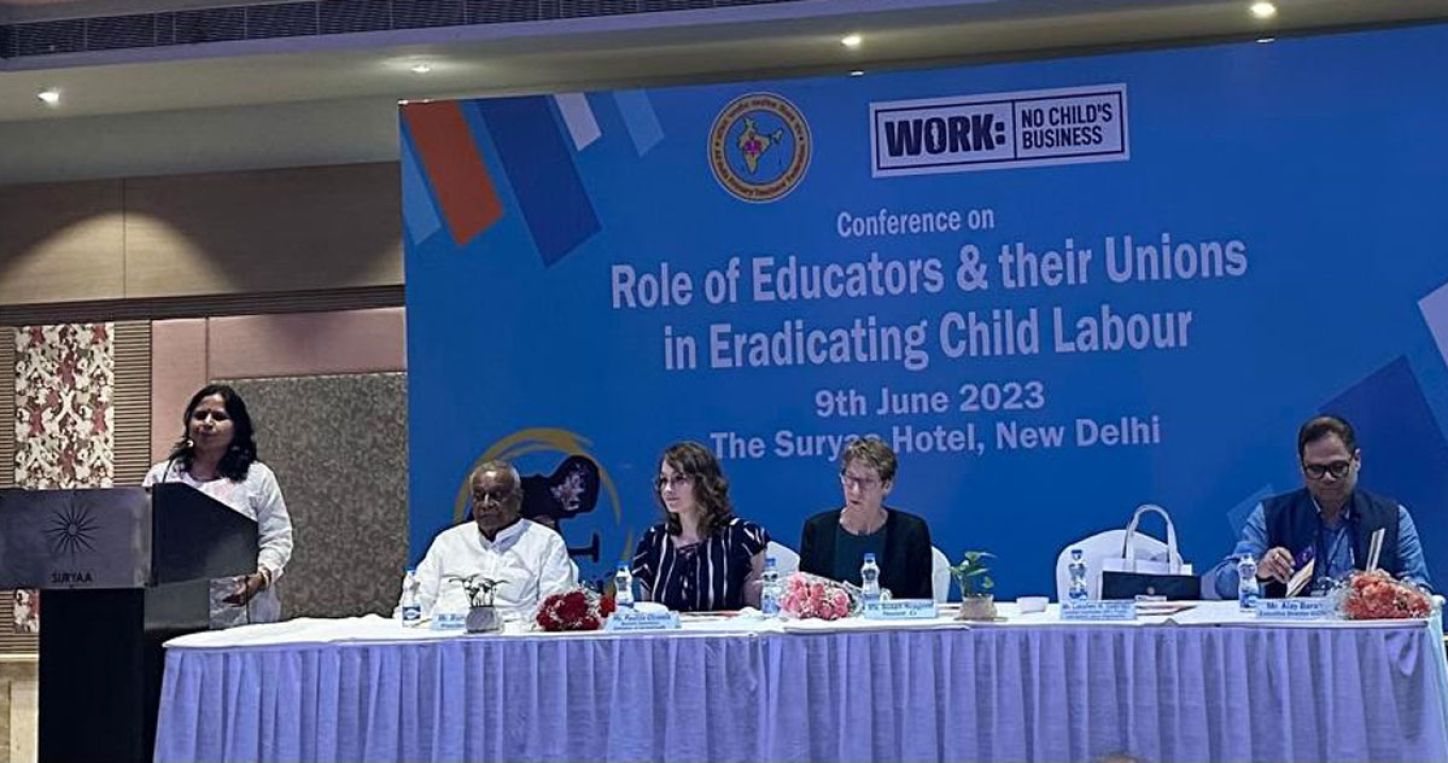 In her speech at the conference, Education International's President, Susan Hopgood, emphasised the close links between the lack of quality education and child labour, as well as the vital need for better funding for public education.
She also introduced Education International's "Go Public: Fund Education!" campaign which calls on governments to invest in public education, a fundamental human right and public good, and invest more in teachers, who are the single most important factor in achieving quality education.
Hopgood added, "We know that poverty is an important factor in the child labour crisis but it is not its sole cause. Poverty itself is the complex result of interconnected factors such as inequality, discrimination, segregation, colonialism, lack of access to quality education, the prevalence of informal employment, and limited access to decent work."
The EI President also stressed that child labour is a highly gender-specific condition, as reports from the International Labour Organization highlight that girls in India are more likely to be in child labour than boys, with 8.3 million girls aged 5 to 17 in child labour, compared to 6.2 million boys.
Preventing school dropout and supporting Roma children to return to school
In the European region, in Albania, the Independent Education Union (SPASH) and the Federation of Education and Science Unions (FSASH) organised a conference on June 12th in Tirana, which showcased best practices from projects against child labour that they have been implementing for over 20 years. Albanian unions have distinguished themselves by their ability to involve their members in activities that prevent school dropout and promote the return to school of children from the Roma ethnic minority. They have also showed that involving teachers in two- or three-year projects has long-term effects: members who were trained more than 10 years ago in child labour prevention techniques continue to prevent school dropout today. Nine national television channels covered the SPASH and FSASH union conference on June 12th which was attended by representatives from the Education, Science, and Culture Union of Kosovo (UESCK-SBASHK), the Education Union of Montenegro (TUEM), the Fair Childhood Foundation of the German Education and Science Union (GEW) and Education International.
African Regional Symposium on Promoting the Area-Based Approach
In Africa, in Kampala, Uganda, the Teachers' Union of Malawi (TUM) and the National Teachers' Union of Uganda (UNATU) took part in the African Regional Symposium on Promoting the Area-Based Approach in Pathfinder Countries for the Elimination of Child Labour on June 13th. The symposium was organised by the Global March Against Child Labour and brought together unions, employers' associations, and other civil society organisations from the Democratic Republic of Congo, Ethiopia, Malawi, and Uganda. Delegates shared their experiences and urged members of Alliance 8.7 and governments of pathfinder African countries to "prioritise the area-based approach in planning, policies, and actions to eliminate child labour."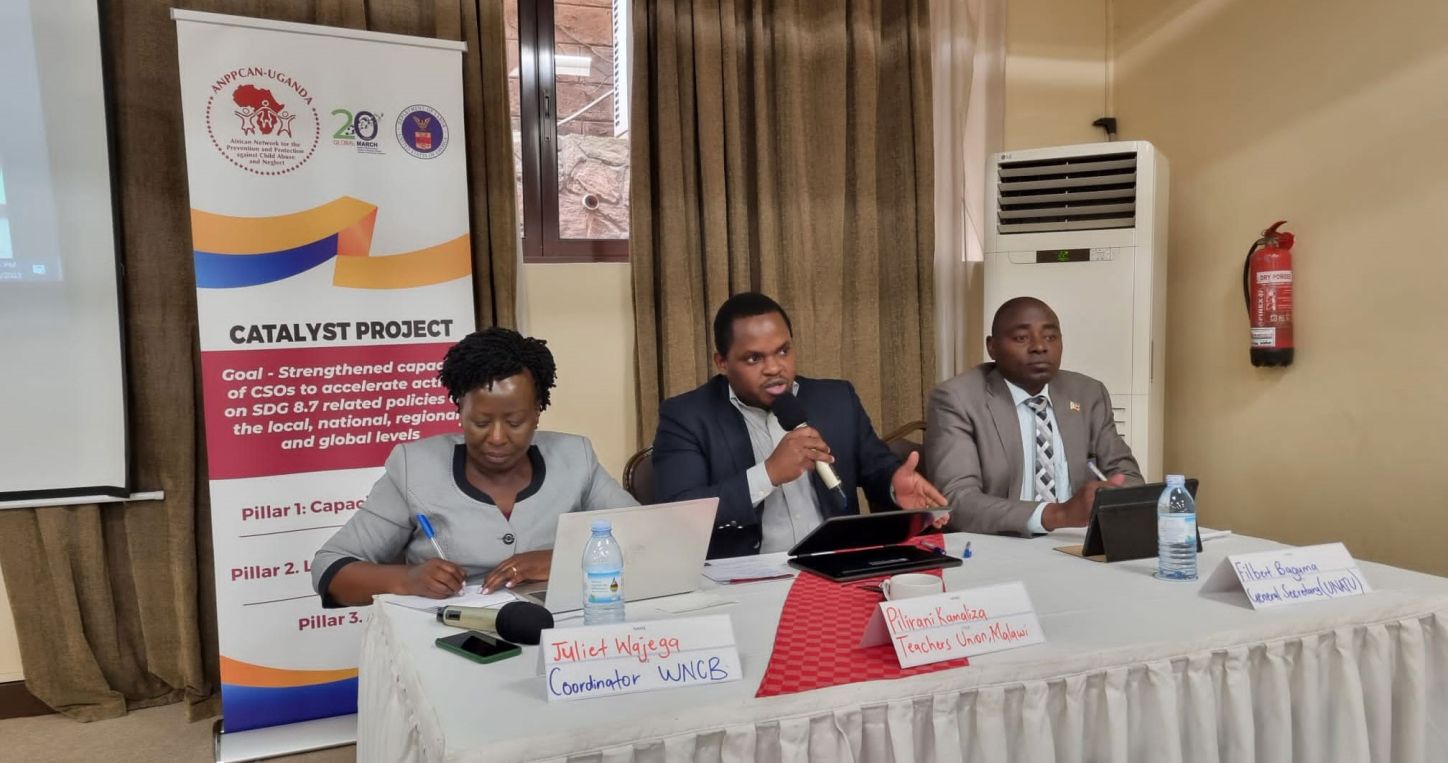 The first exchange visit between Ugandan educators
In Northwestern Uganda, for the first time UNATU organised an exchange visit from June 13th to 16th involving school principals, teachers, union leaders, and education authorities from three regions where the union has been implementing projects against child labour. Delegates from Entebbe and Karamoja had the opportunity to spend two days in the districts of Zombo and Nebbi (Western Nile sub-region), where UNATU has extensive experience of developing child labour-free zones. They were impressed by the results achieved in some schools, such as the elimination of school dropouts among girls, parents mobilising to provide lunches, using exclusively non-violent disciplinary methods and meticulously monitoring any early signs of absenteeism. Delegates returned to their respective regions with new ideas on how to improve their own child labour prevention programmes.
Day of the African Child
Education International's affiliate in Mali, the National Union of Education and Culture (SNEC), celebrated both World Day Against Child Labour on June 12th and Day of the African Child on June 16th. The June 12th celebrations took place in Ouelessebougou, where 104 former child labourers (55 girls, 49 boys) had been reintegrated into the school system during the 2021-2022 school year through a project by the Malian union. Certificates of recognition were awarded to those individuals who were most actively involved in the fight against child labour and promoting children being in school. On June 16th, SNEC organised a conference in Kabalabougou on the topic of children's rights in the digital environment to mark the Day of the African Child. Local authorities, parents associations, and local representatives from the Ministry of Education supported SNEC during both celebrations.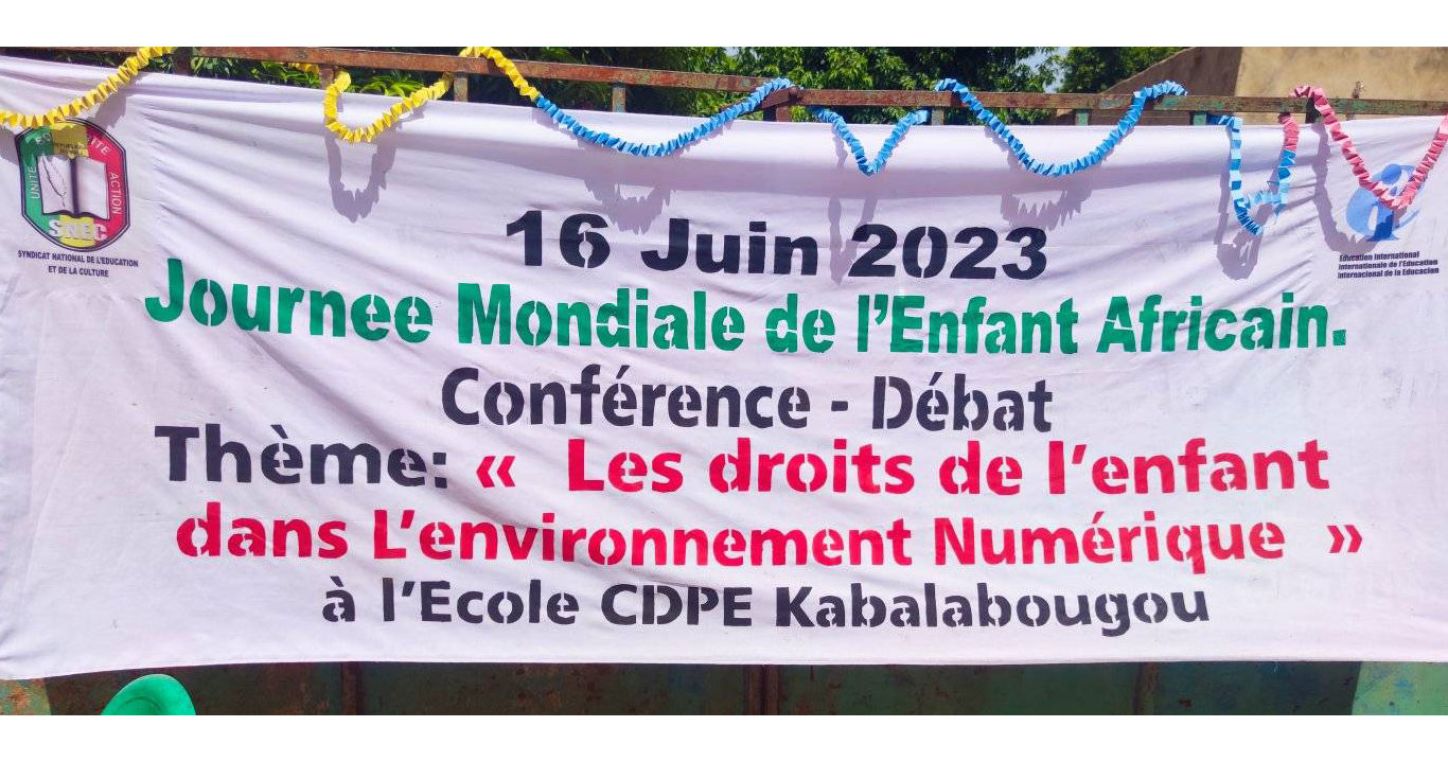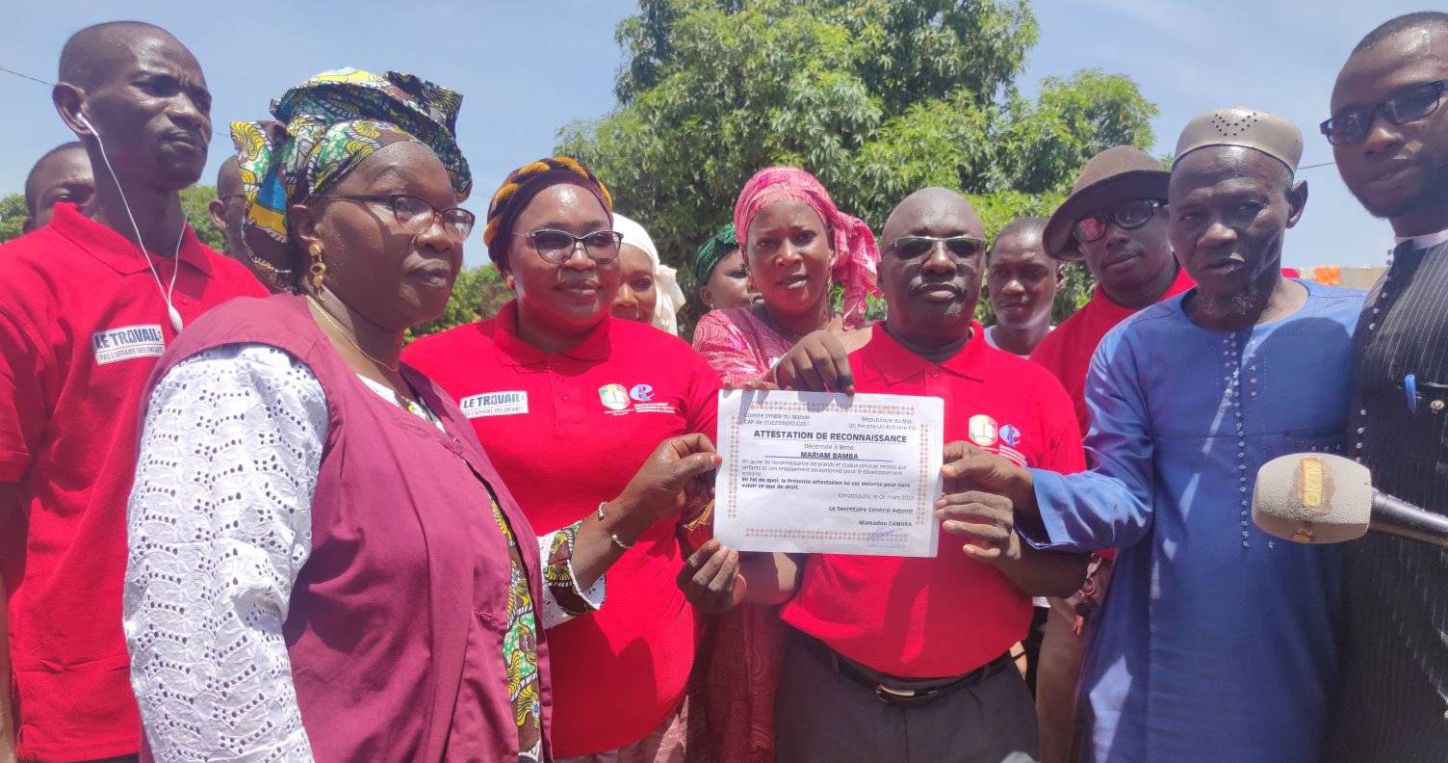 In Senegal, Education International members made the most of the World Day Against Child Labour and organised, on June 15th an awards ceremony for the best students in the municipality of Bambilor, where they are implementing a project to combat child labour. This event took place at the town hall and was attended by local authorities and local media. It provided an opportunity for the unions to reinforce their awareness raising messages about the risks associated with child labour among the population and to inspire people to support education at the municipal schools.